Summer's Here – How to Protect Your Hair from the Beach Sun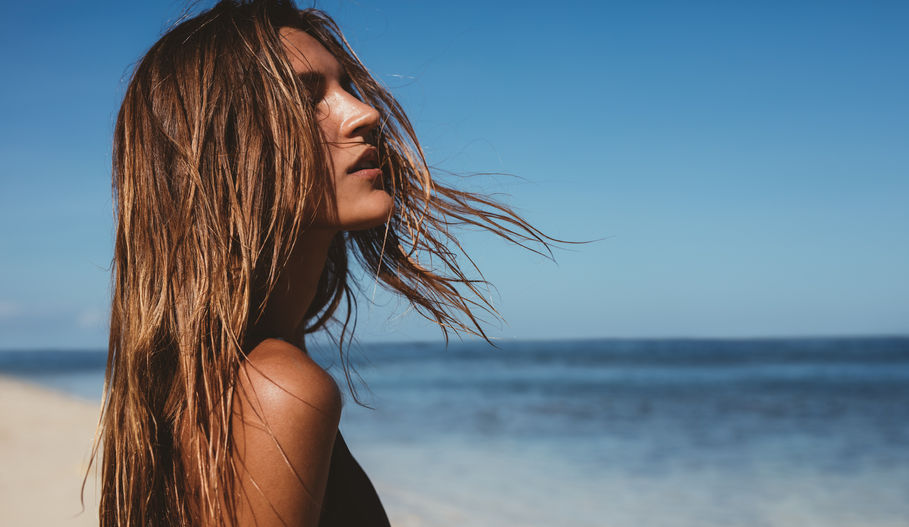 Sun-kissed highlights are popular all year round, but believe it or not, just as the sun can damage your skin, it can also wreak havoc on your hair. Here's what you need to know about the sun's effects on your hair and some things you can do to protect it.
Sun Damage and Your Hair
UVA and UVB rays damage skin, fabrics, and just about anything else they come into contact with over time. Unfortunately, the same can be said for your hair. The sun's rays are especially harmful on the part of your hair called the cuticle, which is the term used to describe the outermost part of your hair. Cuticles are much like scales, and the flatter they lie, the shinier and less frizzy your hair appears. UVA and UVB rays damage that cuticle to the point that it can no longer lie flat, which can make your hair appear dull. Other signs of sun-damaged hair include:
Discoloration, especially if your hair is colored;
Dry, brittle hair that breaks easily;
Excessive split ends;
Thinning hair; and
Ways to Protect Your Hair
Fine hair and very light hair are most prone to damage, though dark hair is not 100% safe. Everyone, regardless of hair color, should take the time to protect their hair prior to going out into the sun. There are several different approaches to this, so you can choose the one that best fits your needs.
Use Products with SPF – Though there aren't as many products for your hair as there are for your skin, they do exist. You can find leave-in treatments and even hairsprays that come with SPF built right in.
Wear a Hat – By and large, a hat is the simplest and most effective way to block the sun's rays. For even more protection, wear a wide-brimmed hat to protect your face and shoulders, and be sure the brand you choose offers you some built-in UVA/UVB protection, too.
Use an Umbrella – Even today's umbrellas and parasols have UVA/UVB protection built in, so if you'll be sitting in the sun, make sure you bring one of these umbrellas to create your own shade.
Rinse Your Hair after Swimming – The sun's rays can be harmful enough to your hair, but when mixed with chlorine from a pool or salt from the ocean, the effects are even harsher. Be sure that you rinse your hair thoroughly after swimming to rid it of salt and chlorine, then wear a hat before going back out in the sun.
Go Out Early or Late in the Day – If you want to get out and active before the sun's really had a chance to ramp up its rays, consider getting up early in the morning to go for your jog or taking your dog for a walk later in the evening.
Put Sunscreen on Your Hair – Though sunscreen was developed for your skin, there's no rule that says you can't put it on your hair, too. To be safe, and to minimize the number of chemicals you're putting on your hair, use a high-SPF formula for babies. If you have color-treated hair, be sure to test a small section first.
Use Natural Oils – Finally, if you want to improve hair and scalp health while providing some natural SPF, try massaging some avocado, coconut, olive, or raspberry seed oil into your hair.
Your hair is just as volatile as your skin when it comes to UVA and UBV rays, so it's important to cover up or add some protection before you go out in the sun. Each of these methods provides plenty of SPF, and combining them can give you even more peace of mind.