CELEBRATING 10 YEARS! | SALON INVI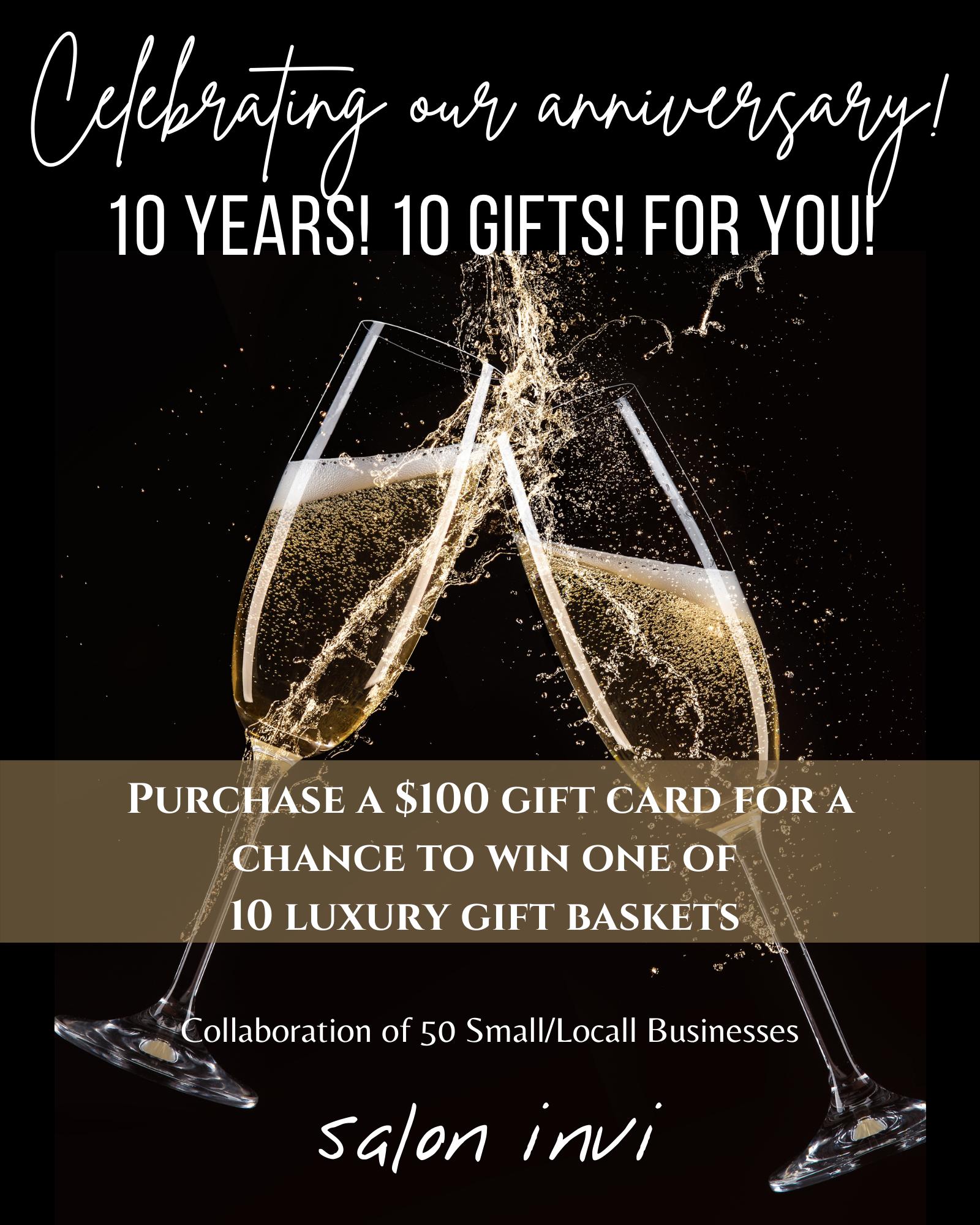 IT'S OUR 10 YEAR ANNIVERSARY and we wanted to do something that included the community along with the small businesses, so we can support each other. We are preparing 10 Gift Baskets for our clients, and will be doing a raffle to select 10 Winners. In a way, we want to support all the small/local businesses around us by sending our clients to them. In these baskets, we will be including the local businesses gift cards, products, merchandise, swag, POP etc.

We are greatly appreciative for all the donations we have received thus far from over 50 small/local businesses that we're collaborating with. Let's think local first! Purchase a $100 gift card for a chance to win one of the 10 luxury gift baskets!
All Care Laser Center
Andover Classic Wines
Andrea's Skin Care
Best You
Bobbles & Lace
Boston Magazine
Btone Fitness
Bueno Malo
Chic Consignment
Crack'D
Cristina's Bridal
Dan Touma Designs
David's Shoe Repair
David Nicholas International
Elizabeth Grady
Elizabeth Lee Boutique
Elm Square Oyster Co.
Goldwell
Helen Thomas
Home Yoga
JP Licks
Kerastase
La Fina
La Rosa's
Lady Black Tie
Les Fleur
Level Up Med Spa
Lillian Montalto Signature Properties
Mak & Co.
Medical Skin Boutique
North Shore Magazine
Oribe
Oxygen Mind & Body
Palmer's Restaurant
Pazzo
Perfecto's
Polished
Royal Jewelery
Shaban's
Skin Ink
Sole Amour
Stephanie Cogliano
Sullivan Beauty
Sweet Mimi's
That Dirty Dog
Todd Rogers
Twenty20 Boutique
Ultimate Perk
Vain Medi Spa
Van's Signature Nails
Yella