Salon Invi to Offer Complimentary Hair Cuts to All New Guests on Mondays in October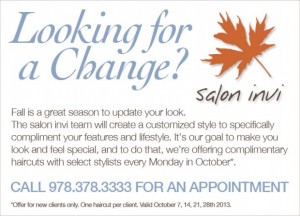 It isn't every day that a hair salon offers complimentary services to their guests.  However, a highly popular multi award-winning Andover hair salon has decided to offer new guests a complimentary hair cut on Mondays during the month of October. This is ideal for guests who are eager to ring in the fall season with a fresh new look.
Out With the Old
Many people choose to remain with the same hairstyle for years a a time. While this can work in the case of classic styles that remain popular, it can more often result in a look that needs updating. This complimentary offer is an ideal opportunity to give yourself the makeover you deserve.
Signal the Beginning of Fall
As the summer comes to an end and fall begins to approach, there is no better way to celebrate the change of season than with a new complimentary hairstyle. Upon arriving at Salon Invi, guests will be attended to by an experienced stylist that will offer them their professional opinion before creating their new look. Their goal is that you will leave the salon wondering why you had never thought of visiting them before.
Experience Salon Invi for Yourself
Salon Invi, winner of Northshore Magazine's "Bons Best of 2013″ Reader's Choice for Best Women's Salon, Best Men's Haircut and Best Hair Coloring Salon, is owned by Christopher Kishfy, who has many years of extensive experience in the hair salon industry. The team of stylists at salon invi are highly experienced and know precisely what is expected by their guests, in order to deliver the best service in the area. Guests who visit Salon Invi will not be disappointed with the level of service they receive.
Services Offered at Salon Invi
Salon Invi offers a wide range of hair care services ranging from a basic haircut or color service to an all-inclusive wedding package.  Whatever is requested, salon invi is able to cater to all of your hair care needs. While some services are relatively quick to perform, others may be more time-consuming. For this reason, it is imperative that your stylist be informed of your treatment selection at the time of booking your appointment. Although the salon will do their best to accommodate walk-ins, prior appointments are preferred for all services at this salon.
Salon invi will be offering complimentary haircuts to first time guests, with select stylists, every Monday in October from 9:00-3:00.  Please contact the salon at 978-378-3333 to schedule your preferred date and time.