Chlorine and Your Hair: Everything You Need to Know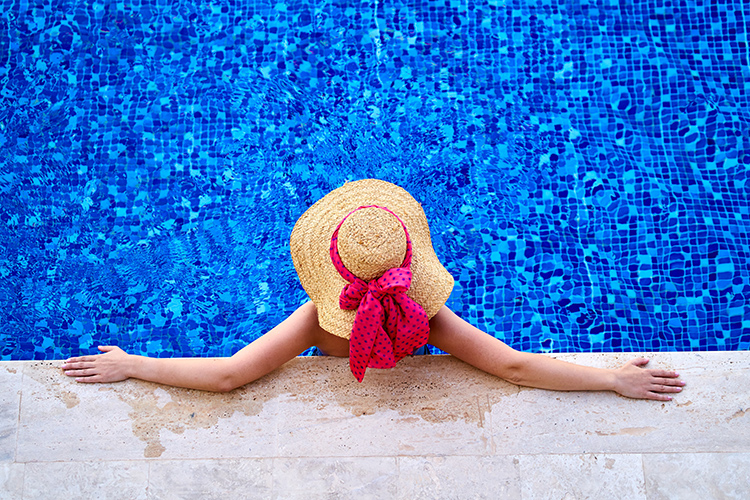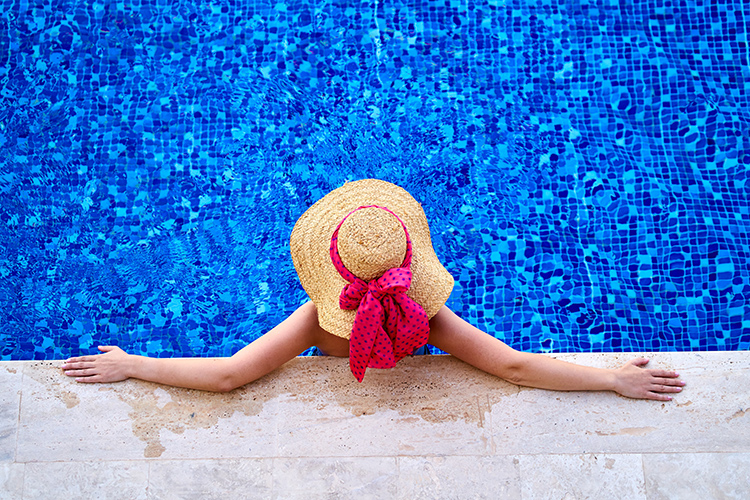 Most people already know that if they regularly expose their hair to the chlorine found in swimming pools, it can do some serious damage. Whether your hair has become dry and brittle, lifeless, or even turned green, learning more about the effects of chlorine on your hair and how you can prevent them will help you look your best without having to avoid the pool this summer.
What Does Chlorine Do to Hair?
Chlorine is a disinfectant that's used to kill bacteria as well as to remove contaminants like dirt and oil from pools. Because it is so very good at its job, it also strips the protective natural oils from your hair, which leaves it especially prone to damage from heat and the sun. What's more, it can cause the otherwise smooth cuticle of the hair to become porous, which makes hair very brittle.
Does Chlorine Turn Your Hair Green?
Anyone who has blonde color-treated hair (or even blonde highlights) can attest that swimming in a chlorinated pool has the potential to turn it from a platinum or golden blonde to a very unflattering green. Chlorine cannot turn your hair green; this is a very common misconception. The oxidized metals in the water are responsible for this greenish hue, and copper is the biggest culprit. As copper oxidizes, it develops a greenish patina that is desirable in many situations, and it's this very same reaction that causes hair to turn green in a pool. Particles of oxidized copper bind with the protein in your hair shaft and turn it green.
What are the Risk Factors for Chlorine Damaged Hair?
Some people are more prone to hair damage and discoloration when swimming in chlorinated pools. Pay special care if you have:
Color-treated hair. Chemically lightened hair is most likely to experience damage due to chlorine in pools.
Dry, thin, or fine hair. It is important to remember that if your hair is already thinning, especially fine, or overly dry, chlorine in a swimming pool will exacerbate this.
Damaged hair. If your hair has been damaged for any reason – especially if it is overly processed, this is a significant risk.
Permed or relaxed hair. Though perms and straightening treatments make your hair look amazing, they also weaken it a great deal and leave it susceptible to damage.
Tips for Damage Prevention
If any of the risk factors above apply to you, or if you simply want to protect your already healthy hair as much as you possibly can, there are several things you can do.
Wear a swim cap. Though this is the most obvious solution, it's also the best one. When your hair is in a swim cap, the chlorine cannot affect it.
Saturate your hair with water before entering the pool. Just use tap water to wet your hair before you take a dip. This will prevent your hair from absorbing the chlorine-laden water.
Rinse your hair immediately after swimming. As soon as you step out of the pool, rinse your hair very well in lukewarm water. This will help to remove chlorinated water.
Use a sulfate free shampoo. Finally, as soon as you have finished swimming, use a sulfate free shampoo to remove any residual chlorine without over-drying your hair.
Though it may sound like the enemy – at least to your hair – chlorine is a vital component in swimming pools. Without it, they'd be cesspools of bacteria that can cause far worse than dry, damaged, or even green hair. Fortunately, you can follow the tips and advice above to minimize the damage as much as possible.